Scholarships in the Netherlands for Bangladeshi Students
Scholarships in the Netherlands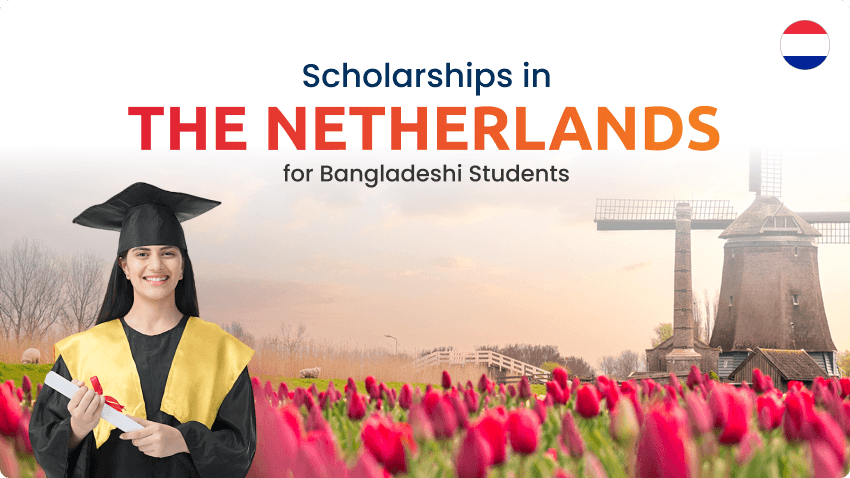 Scholarships in the Netherlands
Scholarships in the Netherlands for Bangladeshi Students
The academic possibilities and excellent standards in the Netherlands make it a desirable study abroad destination for students from all over the world. The government of the Netherlands provides financial aid to international students through programs such as the Netherland Scholarship for Bangladeshi Students. This article will go over the available scholarships in the Netherlands. Numerous university-based and government-sponsored scholarship programs are available to students in the Netherlands. The application requirements for these scholarships vary widely. Each scholarship will include a link to the appropriate application page on the government's website.
The Holland Scholarship

The Holland Scholarship is open to students from outside the EU and offers a one-time award of 5,000 euros or 5,95799 BDT to those chosen. This grant will last for one year. It is a grant that the recipient receives directly rather than a decrease in tuition.

Erasmus Mundus Scholarship

This is probably the most well-known and desirable master's and doctoral scholarship in all of Europe. Every year, a small number of students from EU and non-EU nations are awarded the Erasmus Mundus Scholarship. Along with the country where they are applying, students may pursue their master's or doctoral degrees in at least two other nations. For both levels, there is a fully paid scholarship available. The scholarship includes flights in its coverage of all costs for the duration of the program.

Amsterdam Merit Scholarships

This scholarship is managed by the University of Amsterdam. It awards between 2000 and 25,000 euros per year, or roughly 2,38319 to 29,78996 BDT. Students with outstanding academic records are encouraged to apply for this competitive award. The number of scholarships available is unknown. But the scholarship is accessible to students from business, arts, and humanities programs.

Leiden University Excellence Scholarships

The University of Leiden is in charge of the scholarship program. Those looking to pursue a master's degree are eligible for the award. It works for all genres other than LLM. This scholarship can cover anything from half to all of your annual tuition costs. Prospective students can only be considered for this scholarship once they have been accepted to the institution of their choice. At the time of application, they must additionally indicate that they wish to be considered for the scholarship.

ISS Ph.D. fellowships in Development Studies

Five promising Ph.D. candidates can apply for a coveted fellowship offered by the International Institute for Social Studies. The ISS scholarship provides funding for a full Ph.D. program at one of the participating universities as well as a monthly stipend of 1,90655 BDT. Research or development experience is typically required for academic scholarships in this area.
50+
Certified Education Consultants
Online
Step-by-Step Expert Enrollment Guidance
Application Fee Waiver

SOP & LOR Prep Support

Education Loan Search

Visa Assistance

Up to 100% Scholarships Upon Admission