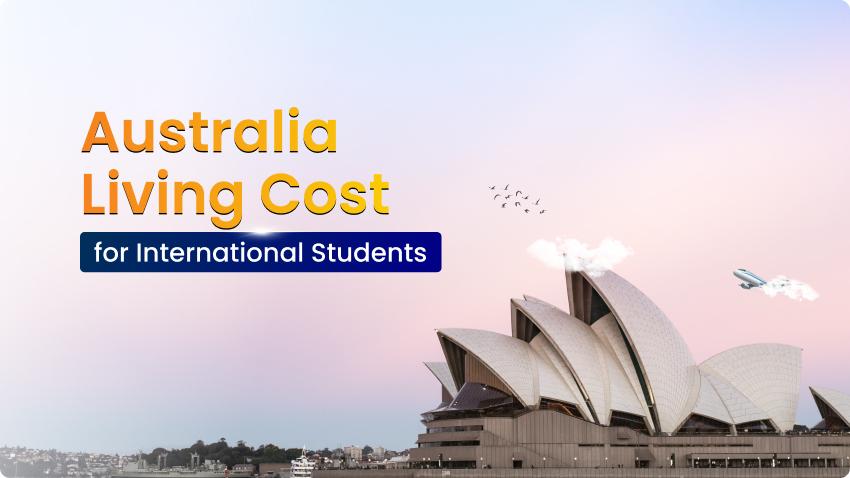 Cost of Living in Australia
The cost of studying abroad is a common concern among those considering this option. Expenses associated with studying in a foreign country, beyond only tuition. Costs for housing, meals, utilities, phones, and transportation all need to be calculated. Due to the complexity of the issue, it is difficult to provide an accurate estimate of the cost of studying abroad. The same holds true for Australia. Cost of living varies not only between cities but also within them, so your actual monthly expense may be anywhere within a specific range. Want to know more? Follow our guide to know more about the cost of living in Australia.
Cost to Study as an International Student in Australia
The cost of higher education varies widely across majors, levels of study, and institutions. Tuition for international students- Master's and doctoral degrees range between AUD 22,000 and 50,000 per year, while Bachelor's degrees range between AUD 20,000 and 45,000 per year.
Every year the tuition costs as well as the living costs are increasing. These modifications are expected given the yearly tendency of rising tuition prices across the world. Looking at the price structures from the previous year may help you get an idea of your tuition costs if you are an international student going to study in Australia.
Living Costs
Rent is a natural initial point of consideration when researching the cost of living in Australia. The various student cities tend to have substantial differences in real estate costs and rent. The sort of housing you select will also affect how much you'll pay each month. Many institutions provide on-campus housing for new students. There are many advantages to this. As an international student, it initially helps you establish a safe space close to your classes. When you're new to the city and still figuring out where everything is and how things work, this is a tremendous help.
In addition to the price of housing and transportation, there are other charges, such as those for food, utilities, internet, and other items. These are heavily influenced by your location. As you already read, housing for students on campus may include utilities and meal plans. It might also cost more than other available solutions. Then there is the issue of how the cost of living varies between cities.
Let's look at the average cost of living in Australia
| Necessities | Costs |
| --- | --- |
| Meals | AUD 320-1,100 |
| Transport | AUD 160-200 |
| Monthly Utilities – Electricity, Water, Gas | AUD 120-600 |
| Rent (monthly) | AUD 600-2,200 |
When compared to other popular study abroad locations, Australia is generally more expensive. These figures are approximations, because actual costs of living within each country can vary considerably from one region to another. How much you really spend each month might also be determined by factors such as your way of life and personal preferences. Your ideal Australian university may be within your financial reach with just a little bit of effort and research.
Managing the Costs as a Student
Don't give up on your dream of going to study in Australia just because you're worried about the cost. Your ability to have your expenses covered in full or in part will depend on your individual situation. Let's have a look at some potential ways that can support the students studying abroad:
Scholarships & Grants
In our experience, looking for a scholarship is a natural extension of researching potential universities and programs. We can all agree that the cost of attending a university in another country is hefty. In addition, tuition for international students is typically substantially greater than for local students. You should be able to afford to study abroad, but any extra help with money would be greatly appreciated. Australia is a great place to study abroad since several universities provide large, fully-funded scholarships to international students. Many more may only be partially supported.
Student Discounts
Your capacity to control costs is a key factor in determining your standard of living. Take advantage of your status as a student to save big money on groceries, electronics, clothing, and more, as well as on transportation, eating out, and entertainment. Websites aimed specifically for students can also be a great resource for finding the best prices.
Working Part-time
Working and studying at the same time is permitted on a full-time Student visa. This will help you gain the expertise you need to launch your career and provide financial support while you get started. Working hours are limited to a maximum of 24 per week throughout the academic semester which is effective from July 2023. In your free time, you can put in full hours. Make sure you can work legally while you're studying .
Our Concluding Thoughts
When you study in a foreign country, it can be quite difficult to accurately estimate your monthly or annual expenses down to the very last figure. When making preparations for the massive undertaking of going to study in another country, one must take into account not only the higher tuition expenses that are necessarily spent by international students, but also the greater cost of living. We hope that you now have a more complete notion of what to keep an eye out for, and that this brings you one step closer to attending the university in Australia of your dreams!
50+
Certified Education Consultants
Online
Step-by-Step Expert Enrollment Guidance
Application Fee Waiver

SOP & LOR Prep Support

Education Loan Search

Visa Assistance

Up to 100% Scholarships Upon Admission
Frequently Asked Questions to study abroad