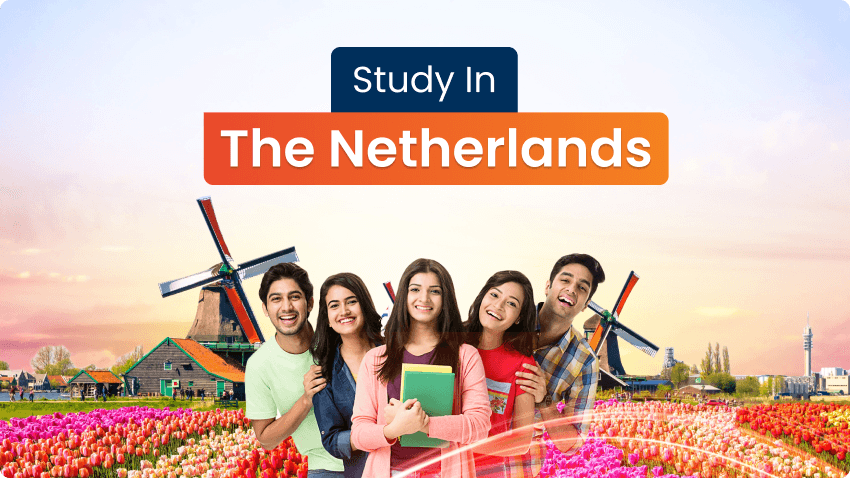 Why Students Choose Netherlands as a Study Abroad Destination
The Netherlands is a modern and diverse country. Students from all over the world go there to study in universities. Many international students dream of studying in the Netherlands. Every year students from all over the world go there because they know they will get a good education and a good job. When it comes to providing instruction in English to students from outside the country, the Netherlands is an established leader.. Depending on how well you speak English or Dutch, you can choose which language to learn in. You'll discover a warm welcome and a wide variety of people and cultures in the Netherlands because of the population's well-known tolerance and acceptance of others. Some of the great reasons to study in the Netherlands are:
Study at globally ranked universities

The Netherlands pioneered the Bachelor/Master system and English-language degree degrees in Europe. As a result, there is now one of the continent's widest variety of courses to choose from. The academic standing and quality of Dutch universities are well-known internationally. International students apply to their undergraduate and graduate programmes annually. The academic community from all around the world and all across Europe rate and rank the universities in the Netherlands based on their research output and how highly they are thought of by their peers. The best international schools in the Netherlands for 2024 are presented here.

Top 5 Best Universities in Netherlands

| University | QS World University Rankings |
| --- | --- |
| Delft University of Technology | 47 |
| University of Amsterdam | 53 |
| Utrecht University | 107 |
| Eindhoven University of Technology | 124 |
| Leiden University | 126 |

Dutch Culture

The Dutch are known for their simplicity and aversion to complexity. They place a premium on openness and like candid discussions about emotions and values. The Dutch are known for being straightforward with one another, which might come across as aggressive to outsiders. However, this is only a cultural trait that facilitates open and honest exchanges. Because of their frankness and willingness to hear out opposing viewpoints, the Dutch are friendly and approachable.

Experience Student Life

Dutch universities regularly host events and activities aimed at bringing their student bodies closer together. At Dutch universities, there are several student hubs, associations, and parties that cater to a wide variety of interests, from sports to nightlife to academics.

Working as an International Student

The Netherlands is home to the European headquarters of many of the world's top corporations. When you combine the country's openness to foreign workers with its international outlook, you have a workforce that is fluent in English and eager to learn from its international colleagues. The facilities are ideal for out-of-country students. If you earn a Bachelor's or Master's degree from a Dutch university, you'll have a leg up on the competition for jobs and may even be able to extend your stay. Beside that In the Netherlands, international students can work part-time for 10-16 hours per week.

Tuition & Study Cost

Dutch tuition costs are about on par with those in other European countries. The average cost of tuition, fees, books, and living expenses for a student in the European Union is roughly EUR 3,000. Non-European Union students must pay different tuition rates for different courses at different institutions. The annual tuition for a Bachelor's degree programmes is usually between EUR 8,000 and EUR 25,000.

Scholarships

Scholarships are a fantastic resource for offsetting the costs of studying in a foreign country. Numerous scholarships are available to international students studying in the Netherlands. Academic merit-based financial aid provided by Dutch universities or the Dutch government. Scholarships awarded to a certain type of student or from a specific socioeconomic background. Make sure you read the criteria for each scholarship or award carefully before applying.
50+
Certified Education Consultants
Online
Step-by-Step Expert Enrollment Guidance
Application Fee Waiver

SOP & LOR Prep Support

Education Loan Search

Visa Assistance

Up to 100% Scholarships Upon Admission


Ready to Get Started?
Help us find the best study abroad courses and universities for you with just a few simple steps.
Read More Insightful Articles
50+
Certified Education Consultants
Online
Step-by-Step Expert Enrollment Guidance
Application Fee Waiver

SOP & LOR Prep Support

Education Loan Search

Visa Assistance

Up to 100% Scholarships Upon Admission