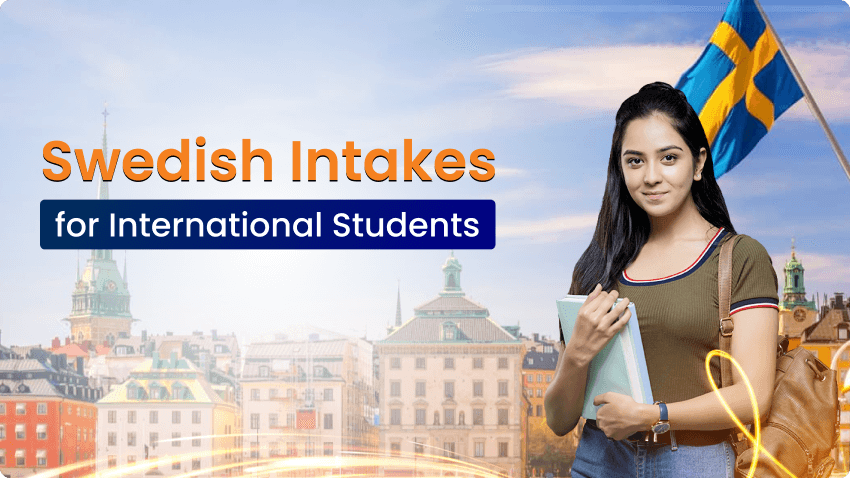 Swedish Intakes for International Students
There are a few things you should be aware of if you are a Bangladeshi student wishing to study in Sweden. First and foremost, globally recognised high-quality education is available in Swedish universities. Sweden also has a large number of notable research institutions. Consequently, you will get the chance to collaborate with some of the top experts in your industry.
Sweden is undoubtedly a fascinating country for international students, despite not being a popular choice for study abroad. The educational standards at Swedish universities are comparable to some of the best in the world. Sweden has a long history of offering scientific and technology courses, but for a variety of courses and specializations, it is an excellent option for overseas students. In Sweden, there are two intakes.
| Deadlines | Spring | Autumn |
| --- | --- | --- |
| Applications Open | June | October |
| Application Deadline | August | January |
| Selection | October | April |
| Session Starts | January | August-September |
There are several stages to the application procedure in Sweden, so aspiring international students are recommended to begin the application and documentation process a year before the intended Intake. Here is everything you need to know about Swedish Intakes.
Autumn
In Sweden, the Autumn Intake is the main intake, and nearly every university offers every subject during the Autumn Intake. Beginning in August or September is the Autumn Intake. Here is a schedule for international students enrolling in Sweden for the autumn semester.
Generally speaking, university online application procedures begin in October and are available for admission until mid-January. By the beginning of April, the students will learn whether or not they have been admitted into the institution. Students are recommended to apply for the student visa as soon as they learn of their admission because the procedure takes time.
Spring
Sweden's Spring Semester, which begins in January, is regarded as the secondary intake. The best course of action is to check on the university websites before applying as some of the courses might not be offered for the Spring Intake in some of the Swedish Universities.
Missing the autumn admissions doesn't mean a student has to waste the entire year; they can apply for the spring intake. The deadlines for applications, which begin in June, are somewhere in the middle of August. In October, the students will get information regarding their application.
50+
Certified Education Consultants
Online
Step-by-Step Expert Enrollment Guidance
Application Fee Waiver

SOP & LOR Prep Support

Education Loan Search

Visa Assistance

Up to 100% Scholarships Upon Admission