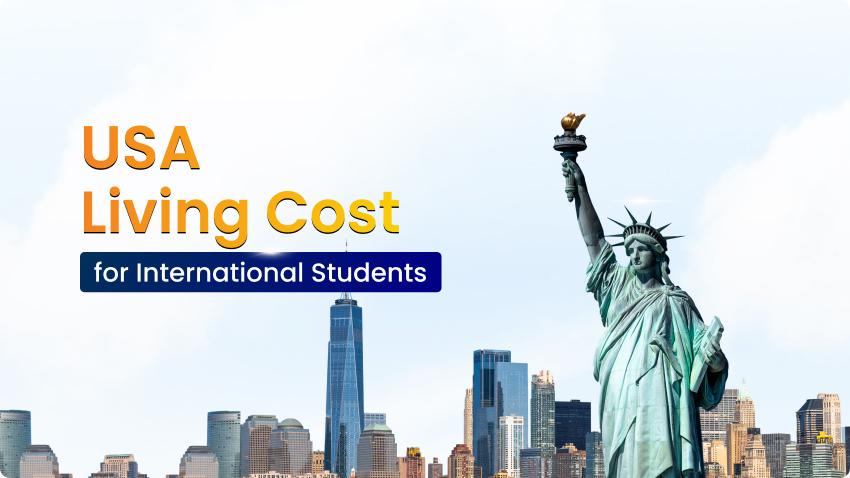 Cost of Living in the USA
If you are giving serious consideration to the idea of studying in another country, then you are likely aware that doing so won't come cheap. It is possible that you and your family have been putting money aside for this for a considerable amount of time. After all, the cost of attendance at your programmes should not be the only factor in your decision-making process. You also need to take into account expenses such as rent, food, groceries, and transportation. Then there are the expenditures associated with obtaining a visa and traveling. When it comes to the cost of living in the USA for international students, go through our guide to know all about it!
Cost to Study as an International Student in the USA
Your tuition is automatically more expensive than it is for students who are citizens of the United States. Therefore, when you're conducting your research and looking for universities that fit within your financial range, be sure to consider the international student or out-of-state costs rather than the domestic or in-state ones. Private universities often cost more than public universities, though each university will have its own tuition and fee schedules. Average annual tuition costs at prestigious private nonprofit institutions can be more than twice as high as those at public colleges. Master's and doctorate degree tuition for international students is from AUD 35,000 to 45,000 per year, while bachelor's degree tuition ranges from AUD 20,000 to 60,000 per year.
Living Costs
This enormous country, the third largest in the world, varies greatly in terms of weather, terrain, culture, geography, and customs. As you may imagine, this difference is reflected in the expense of living. The cost of rent, food, transportation, and miscellaneous expenses might vary widely from one place to another. Like tuition, the average cost of living in the United States is different depending on where you go to university. Thankfully, the tuition and fees at specific universities are published online.
Many of the above monthly expenses depend on the type of housing you select. Utilities, for instance, are typically included in the rent for on-campus living. Meal plans, which cover a certain number of meals per semester, are also available to those living on campus. Each school's lunch plan will be unique in terms of cost and the extras you'll receive if you sign up. Having all of your living expenses and grocery shopping taken care of by the university makes it much easier for overseas students to settle into their new environment. Some schools require students to live on campus while attending classes.
However, living off-campus allows you more freedom with your money. Whether it's your monthly grocery bill or your electric bill, you'll only ever pay for what you use. Some students may not be ready for the responsibility of arranging their own lodging and food, while others may find it more convenient.
Let's look at the average cost of living in London
| Necessities | Costs |
| --- | --- |
| Meals | USD 300-500 |
| Transport | USD 500-900 |
| Monthly Utilities – Electricity, Water, Gas | USD 200-500 |
| Rent (monthly) | USD 1,300-3,200 |
Certain states in the United States are often affordable than other popular study destinations. These are only rough estimates because of the wide variation in local costs of living across each country. Lifestyle and preferences may also have a role in determining your actual monthly expenditures. With little planning and research, you may find that attending your university of choice ;in the USA is within your financial means.
Managing the Costs as a Student
Don't let financial concerns prevent you from pursuing your goal of attending university in the US. The degree to which you are able to have your costs covered will vary depending on the specifics of your case. Let's look at some of the options to manage your cost as an international student:
Scholarships & Grants
You will not be qualified for the government scholarship programme that the US government provides to students as an international student. That doesn't mean it prevents you from submitting a scholarship application. Scholarships for international students are available from many US universities; you simply need to make sure you're doing enough research and covering all the bases. When applying to the USA, you may be eligible for merit- or need-based scholarships.
Student Loan
Students have other funding options than scholarships as well. In the USA, finishing education after taking out student loans is quite common. International students may look into loan options available in their own countries to finance their studies. We strongly advise you to fully understand your rights, the terms of your loan repayments, and all other terms and conditions if you're thinking about taking out a loan.
Working Part-time
On a full-time student visa, it is possible to work and study simultaneously. This will support you financially while you start out and help you get the knowledge you need to establish your career. Throughout the academic semester, working hours are restricted to a maximum of 20 hours per week. You can work a full hour during your holidays. Ensure that you can legally work while you are a student.
Our Concluding Thoughts
If you start looking into tuition in the US, you won't be the only person to be shocked by the prices you find. However, with careful planning and research, international students can keep their costs of living and attending university in the USA to a bearable level. Your annual expenses will vary depending on a number of factors, such as whether you attend a public university or a private one, if you start your education at a community college and then transfer your credits, how long you want to stay in the USA, what kind of housing you choose, etc. When you factor in scholarships and other forms of financial aid, your living expenses are unlikely to be the same as those of your fellow students.
50+
Certified Education Consultants
Online
Step-by-Step Expert Enrollment Guidance
Application Fee Waiver

SOP & LOR Prep Support

Education Loan Search

Visa Assistance

Up to 100% Scholarships Upon Admission
Frequently Asked Questions to study abroad