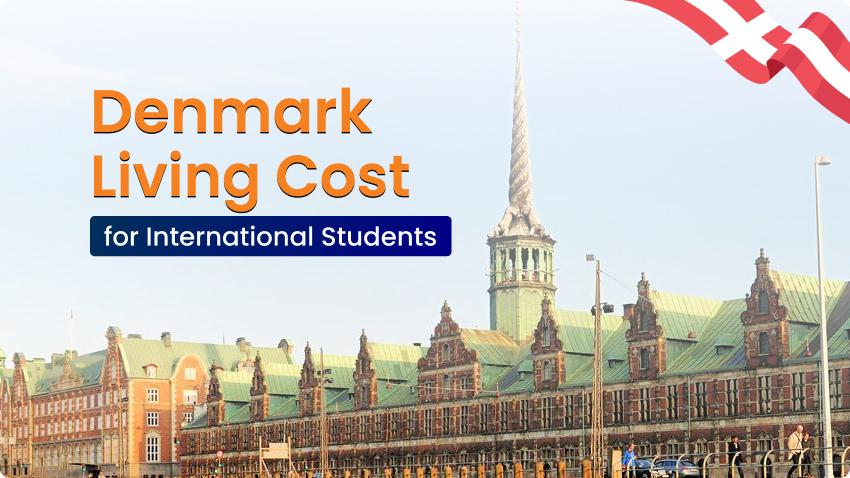 Cost of Living in Denmark
Despite having one of the greatest standards of living in the world, Denmark is an expensive country. Living in Denmark should not break the bank if you make a dependable decision for living, such as cycling to school and dining at home. The best academic programmes, research-driven learning, and first-rate academic infrastructure are some of the major benefits of studying in Denmark. With a high per capita income and high standard of living, Denmark is one of the safest, happiest, and most livable nations in the world. This is the reason that tens of thousands of international students chose to study in Denmark. Although Denmark's policy of charging no tuition fees is particularly appealing to EU students, living expenses there are typically far higher than average for Europe. You must plan your monthly expenses carefully if you want to be able to cover these costs.
What is the Cost of Studying and Living in Denmark?
Tuition Cost

Tuition costs are a significant portion of the overall cost of education for international students in Denmark. International students in Denmark may have to pay varied tuition rates depending on their chosen university, major, and length of study. Tuition for international students at a university in Denmark typically costs between 6,000 EUR and 16,000 EUR per year. Students from the European Union, the EEA, and Switzerland do not have to pay tuition in Denmark.
Top Universities in Denmark and Their Tuition Cost
| University | QS World University Rankings | Tuition Fee Per year |
| --- | --- | --- |
| University of Copenhagen | 107 | 10,000-17,000 EUR |
| Technical University of Denmark | 121 | 15,000 EUR |
| Aarhus University | 143 | 10,000 EUR |
| Aalborg University | 336 | 102,600 DKK |
Additional Expenses

Housing, books and supplies, groceries, transportation, and other additional costs make up the majority of a student's monthly budget. The cost of living is relatively affordable in many Danish cities. Some of the most important cities in Denmark are Aarhus, Copenhagen, Aalborg, Odense, and Frederiksberg. These are the most populous cities in the nation. Depending on how you lead your life, the average monthly cost of living in Denmark might be anything from €1,500 to €2,000. Here is a quick rundown of what it costs on average to live in Denmark:.
| Necessities | Costs |
| --- | --- |
| Monthly Utilities – Electricity, Water, Gas | DKK 1500 |
| Meals | DKK 1,500 - 2,000 |
| Rent (monthly) | DKK 2,500 - 4,000 |
| Transport | DKK 300 |
| Other expenses | DKK 1200 - 1500 |
Ways to Minimize the Costs
For international students, the cost of living in Denmark can be quite costly. There are several ways to lower your regular monthly expenses in Denmark without having to give up your goals of studying abroad. Let's talk about how to make life cheaper for students studying abroad.
Scholarships

Scholarships are available to international students at a number of Danish universities and several government scholarships are also available. Eligibility requirements might be based on academic achievement, financial need, or both combined.

Working part-time

Foreign students in Denmark have the option of working part-time to cover the cost of living. During the academic year, students from the EU and the Nordic nations are allowed to work 37 hours per week, whereas international students can work 20 hours per week and full time during the summer.
50+
Certified Education Consultants
Online
Step-by-Step Expert Enrollment Guidance
Application Fee Waiver

SOP & LOR Prep Support

Education Loan Search

Visa Assistance

Up to 100% Scholarships Upon Admission