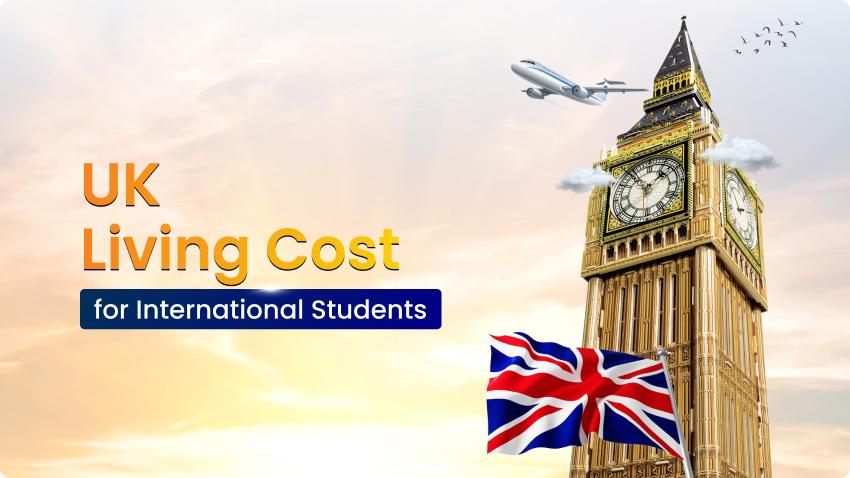 The cost of tuition and living expenses is a major consideration for many students thinking about studying abroad. Costs can add up quickly while going abroad for school. The UK also has a notoriety for charging high tuition rates. But before you go all squeamish and start backing away, you should know that these prices might vary widely. Costs associated with attending college might vary widely from one institution to another and from one field of study to another. In addition, there are numerous options for handling money and gaining access to financing. The cost of a UK education is influenced by a number of factors, so let's examine some of them.
Cost to Study as an International Student in the UK
International undergrads should budget between £10,000 and £26,000 annually, on average. Again, depending on factors like how resource-intensive it is or how long it lasts, certain courses tend to be more expensive than others. For instance, the annual tuition for a clinical degree in the UK might reach £58,600.
Although this isn't always the case, postgraduate and doctoral programs are typically more expensive. These courses frequently cost more since they are more specialized. But keep in mind that, generally speaking, postgraduate courses are shorter than undergraduate courses. This indicates that a postgraduate course in some cases may be less expensive overall than an undergraduate course for international students in the UK.
Again, tuition varies between universities and courses. For instance, the cost of a master's degree for an international student in the UK can range from as little as £4,800 per year to almost £37,000.
Living Costs
When calculating how much it will cost you to study in the UK, it's also important to factor in how much money you'll need to support yourself while there. The cost of rent, along with those of other necessities such as food and transportation, can vary tremendously based on factors such as location, choice of facilities, etc.
London ranks last on QS Top Universities' list of the Best Student Cities in the UK in terms of affordability for students in 2023. Aberdeen, Glasgow, Edinburgh, and Leicester are examples of more reasonably priced major cities. Costs can also vary widely depending on where in these cities you choose to stay and the type of lodging you choose.
Let's look at the average cost of living in London
| Necessities | Costs |
| --- | --- |
| A meal at a restaurant | £10 - 30 |
| One day pass for transportation | £6 |
| Monthly Utilities – Electricity, Water, Gas | £150 - £250 |
| Rent (monthly) | £2,000 |
Accommodations, a significant living expense, can differ based on the kind you pick. The cost of housing will vary depending on whether you select on-campus living or private housing, as well as the split of alternatives within these categories.
Managing the Costs as a Student
Don't give up on your dream of studying in the UK just because the cost of tuition and living there seems out of reach. You might be able to discover a way to have all or a portion of your education expenses in the UK covered, depending on your individual situation. Let's look at some of the options that may help you cover your costs as an international student:
Scholarships & Grants
Many universities and colleges provide scholarships and grants for international students. Some are program specific and some are organized by the government, charities and private organizations. The British Council offers a scholarship for women in STEM that covers tuition, living & other expenses. Try to do your research well on these scholarships and also look for grants offered by your home country as well.
Loans
It is your home country's policy as to whether or not to extend you a loan from the host country's government. You should check the loan guidelines before submitting an application. Think carefully about how you will be able to meet your loan payback obligations before deciding to take out a student loan. In the UK, international students can only qualify for student loans if they have been permanent residents for at least three years prior to enrolling in a University.
Working Part-time
You can work or intern part-time while studying full-time if you have a Student visa. You may gain valuable work experience and start making money toward your living expenses at the same time! You are limited to 20 hours of work per week while classes are in session. You are free to put in full hours during downtime. It Is important to ensure that you can work while you study before enrolling for a course or a visa.
Our Concluding Thoughts
Undoubtedly, studying in the UK is more expensive than other countries. But it continues to be one of the most well-liked locations in the world for studying abroad. Given that many of the most famous universities in the world are located here, this is not surprising. Many students believe that it is worthwhile to spend the money to study in the UK. Students graduate with the best qualifications because of the top-notch teachers and education system. The UK's university graduates are among the most employable, according to employers worldwide. Many students believe that studying in the UK is worthwhile due to all of these factors as well as the multicultural and enriching experience it offers.
50+
Certified Education Consultants
Online
Step-by-Step Expert Enrollment Guidance
Application Fee Waiver

SOP & LOR Prep Support

Education Loan Search

Visa Assistance

Up to 100% Scholarships Upon Admission
Frequently Asked Questions to study abroad