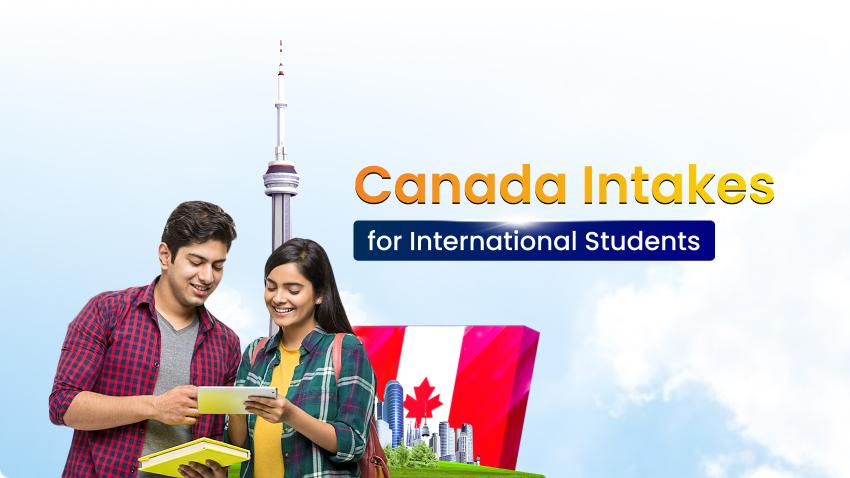 What are the Canadian Intakes for International Students?
Canada is one of the most popular study abroad destinations, therefore the country's educational institutions welcome new students on a regular basis. In contrast to institutions in Bangladesh, those in Canada provide three admissions periods every year.
Canadian universities accept applications for a limited number of courses during a series of intake periods spread throughout the school year. Therefore, it is important for you to be aware of the varied intakes if you are an international student planning to study in Canada. Selecting the right session will allow you to take your standardized tests and obtain a student visa for Canada. The Three Canadian intakes for international students are:
Fall (September intake)-
The Autumn Intake is the most popular time for students to enroll at a Canadian university. This intake has the widest selection of available university-level courses and programs. For this entry, applications are due between June and August. Advantages for international students include a diverse selection of courses and mild winters that make it easier for them to settle here. You have the best opportunity to enroll in the program of your choice at the institution of your choice during this admissions period.
Winter (January intake)-
If you are unable to enroll during the Fall Intake, you may have the best chance of getting in before the year is up during the Winter Intake. Many universities offer a rich curriculum for their Winter Intake students. However, even they are less extensive than the Fall's program and college application window. The window for submitting applications is September - November.
Spring/Summer (May intake)-
There are fewer courses and fewer universities are offered for this intake. If your course is being offered during this intake, you may have an easier chance of getting accepted because there is less demand for it. You may find it ideal because it is one of the least competitive Canadian intakes. Between October and December, applications will be accepted. The fewest scholarships and programmes are offered at this time of year.
| Intake | Month |
| --- | --- |
| Fall | September |
| Winter | January |
| Spring/Summer | May |
Our Concluding Thoughts
To be considered for the intakes in Canada, applications should be submitted as soon as possible. You'll need the extra time to finish up all of the tasks that must be done before the application deadline. You should equip yourself with every advantage you can muster if you're going to the trouble of studying abroad. Make sure that your desired course is still being offered during the intake you've chosen, and read up on any deadlines that may affect you. You should start working on your course and visa applications at least six months before you intend to enroll. Take your time and don't rush. If you try to rush through any of the application steps, you diminish your chances of being accepted. The most effective strategy is to get a head start and then take things carefully.
50+
Certified Education Consultants
Online
Step-by-Step Expert Enrollment Guidance
Application Fee Waiver

SOP & LOR Prep Support

Education Loan Search

Visa Assistance

Up to 100% Scholarships Upon Admission
Frequently Asked Questions to study abroad