Cost of Living in the Netherlands
Cost of Living in the Netherlands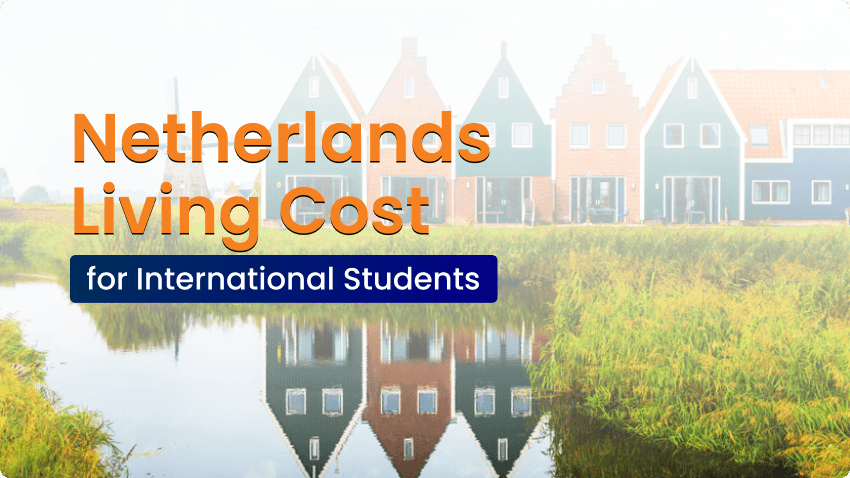 Cost of Living in the Netherlands
When considering the costs of living in the Netherlands, it is possible that this presents the greatest challenge for international students. Depending on the city that a student decides to live in, the housing market in the Netherlands can be reasonably priced for students. However, over the past few years, housing costs in the Netherlands have increased, and as a consequence, it can be difficult to locate reasonably priced accommodations in the center areas of Dutch cities.
What is the Cost of Studying and Living in the Netherlands?
Tuition Cost

The Netherlands have higher tuition rates for overseas students. Annual tuition could be anywhere from 5,000 to 7,500 EUR, depending on the chosen major and the school. Business and architectural schools tend to have the highest tuition rates. Tuition varies depending on whether you are a citizen of a country in the European Union or not. Naturally, private schools' tuition is more expensive than public universities. The annual tuition at a private university is between 1,500 and 2,000 Euros.
Top Universities in Netherlands and Their Tuition Cost
| University | QS World University Rankings | Tuition Fee Per year (EUR) |
| --- | --- | --- |
| University of Amsterdam | 53 | 15,000 |
| Eindhoven University of Technology | 124 | 11,600 |
| Leiden University | 126 | 18,800 |
Additional Expenses

When students share an apartment or house with other students, the cost of housing in the Netherlands decreases significantly. Most colleges and universities have affordable, hot meal plans. Pubs offering reasonably priced meals are common in most urban areas. Numerous international dining options can be found in major urban centers. However, preparing your own meals is the most cost-effective option. Standard of living in the Netherlands is pretty good. Amsterdam is ranked among the best student cities according to the QS rankings.
| Necessities | Costs |
| --- | --- |
| Monthly Utilities – Electricity, Water, Gas | EUR 210 |
| Meals | EUR 110 |
| Rent (monthly) | EUR 1200 |
| Transport | EUR 100 |
| Other expenses | EUR 90 |
Ways to Minimize the Costs
Let's discuss ways to lower living costs for international students.
The cost of living in Sweden is high for international students. What if, though, we informed you that it isn't necessary? There are various methods to reduce your monthly expenses in Sweden without sacrificing your dreams of studying abroad. What are some of these strategies for lowering international students' living costs in Sweden? Let's discuss ways to lower living costs for international students.
Scholarships

Scholarships are available at some of the top universities in the Netherlands, which also boast state-of-the-art facilities and internationally renowned teachers. Students from all walks of life can apply for scholarships, depending on factors such as their home country, family income, and GPA. Scholarships through the Erasmus Mundus program are available to Indian students who wish to study in the Netherlands or any other EU nation.

Student Discounts

Numerous clubs, restaurants, museums, and movie theaters offer student discounts. The majority of these request documentation in the form of a student ID from the institution you attend.

Working part-time

Instead, overseas students will require a work permit and are only permitted to work a maximum of 10 hours per week throughout the whole year. For an internship that is a part of your study program, you don't require a work permit; nonetheless, you, your institution, and your employer will need to sign an internship agreement.
50+
Certified Education Consultants
Online
Step-by-Step Expert Enrollment Guidance
Application Fee Waiver

SOP & LOR Prep Support

Education Loan Search

Visa Assistance

Up to 100% Scholarships Upon Admission